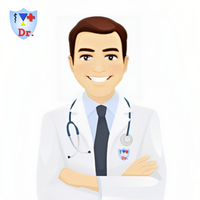 Dr. Hasan Mohammad Nayeem
Thoracic Surgeon
Dhaka, Dhaka, Bangladesh
4.5
For , you will have the following:
Complete consultation, with a time duration from 20 to 30 minutes.
Prescription, right after your consultation.
Medical certificate (if any)
introducing myself
Dr. Hasan Mohammad Nayeem - Dhaka, Dhaka
I am one of the highly qualified and an expert Thoracic Surgeon - Cardiac Surgery with an invaluable experience of over 7 years. My residence is in Dhaka, Dhaka, Bangladesh. I can fluently communicate with you in Bengali, English, Hindi. I will be happy to assist you via video and audio online medical consultation.
Work Information
Working place: Impuls Hospital Ltd


Working Experience: 7 years of experience


Consultation Fee:



Detail Info
Work Experiences:

-Career transition, Feb 2022 - Present
-Registrar cardiac surgery , Mar 2021 - Jan 2022
Khulna city medical college hospital
-Cardiac surgeon , Oct 2018 - Feb 2021
Education:
-Masters degree, Cardiac surgery,2011 - 2014
-Bachelor of Medicine, Bachelor of Surgery (MBBS), Medicine, 2001 - 2006
Bangladesh medical college
Volunteering:
-General Secretary, Jan 2003 - Present
Shondhani eye donation society
-Advisor, Mar 2004 - Present
Cardiovascular Surgery
Intensive Care
Heart Disease Treatment
Medical Tests & Procedures
Minor & Major Surgeries
Medical Operations (Cardiology)
Hands-on experience in diagnosing, treating and monitoring the patients health needs; developing standards of patient care and services, facilities and resources to meet them.
Dr.Hasan Mohammad Nayeem
is now available on
drgalen.org
to provide online consultation to patients in his area of specialization.
You can consult for any of the following symptoms: Video assisted thoracoscopic surgery, and so on.
1. Licence
2. Degree Certificates
3. Experience