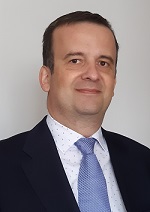 Dr. Christodoulos Monastiriotis
Internal Medicine Specialist
Limassol, Limassol, Cyprus
introducing myself
Dr. Christodoulos Monastiriotis - Limassol, Limassol
I am one of the highly qualified and an expert Internal Medicine Specialist - Diabetes Mellitus, Molecular Biology And Genetics with an invaluable experience of over 20 years. My residence is in Limassol, Limassol, Cyprus. I can fluently communicate with you in Greek, English, Italian. I will be happy to assist you via video and audio online medical consultation.
Work Information
Working Experience: 20 years of experience


Available at Monday to Friday - 09.00 AM to 02.00 PM And 04.00 AM to 08.00 PM for online consultation


Consultation Fee: CYP 24 ($ 50) for 10 to 30 Minutes


You can consult for any of the following symptoms: Vomiting due to unknown cause, Any flu vaccine side effects, Drug reaction, Hypertension, Acute management of pulmonary thromboembolism, Sneezing, Facial edema, Confusion, Syncope, Polyuria, and so on.
1. Licence
2. Degree Certificates
3. Experience
Internal Medicine Specialist - Diabetes Mellitus, Molecular Biology And Genetics

MD, CONSULTANT OF INTERNAL MEDICINE PHD MEDICINE