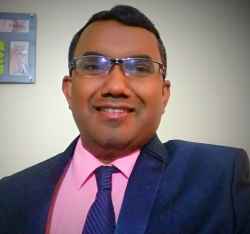 Dr. Manohar Murge
Dietician
Pune, Maharashtra, India
4.5
The paid amount entitles you to the following benefits:
A full consultation lasting between 20 to 30 minutes
A prescription provided immediately after your consultation
Provision of a medical certificate (if required)
introducing myself
Dr. Manohar Murge - Pune, Maharashtra
I am one of the highly qualified and an expert Dietetics & Nutrition - Nutritional Advisor with an invaluable experience of over 15 years. My residence is in Pune, Maharashtra, India. I can fluently communicate with you in Marathi, Hindi, English. I will be happy to assist you via video and audio online medical consultation.
Work Information
Working Experience: 15 years of experience


Detail Info
Experience
Nutrition Consultant,
SugarSavvy Diabetes Centre · Self-employed,
May 2023 - Present · 1 months,
Business Coach
CAMTEAM,
Feb 2016 - Present · 7 years 4 months,
Pune, Maharashtra, India,
Nutrition & Wellness Adviser,
Self,
Jan 2009 - Present · 14 years 5 months,
Medical Officer,
Star Health and Allied Insurance Co. Ltd,
Dec 2015 - May 2023 · 7 years 6 months,
Pune, Maharashtra, India,
Shraddha Hospital,
Pune,
Feb 2008 - Apr 2009 · 1 year 3 months,
Date hospital,Date hospital,,
Residential Medical Officer(RMO),
Education
Swami Ramanand Teerth University,Nanded,
B.A.M.S.,
1996 - 2002
You can consult for any of the following symptoms: Declining Growth Curve / Failure to Thrive, Pressure Ulcers, Weight Loss / Malnutrition, Hyperemesis Gravidarum, Nutritional Problems, Dysphagia, Pregnancy Diet, Irregular Periods, High Cholestrol, Diabetes, High Cholesterol and so on.
1. Licence
2. Degree Certificates
3. Experience