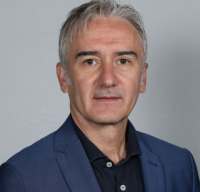 Mr. Predrag Andrejevic
Surgeon
L-Iklin, Valletta, Malta
introducing myself
Mr. Predrag Andrejevic - L-Iklin, Valletta
I am one of the highly qualified and an expert Surgeon - Colorectal, General And Obesity with an invaluable experience of over 20 years. My residence is in L-Iklin, Valletta, Malta. I can fluently communicate with you in English, Serbian, Maltese. I will be happy to assist you via video and audio online medical consultation.
Work Information
Working place: St. James Hospital Sliema, St Andrews Clinic Swieqi, Mint Pharmacy BKara


Working Experience: 20 years of experience


Available at Wednesday - 02:00 PM to 05:00 PM for online consultation


Consultation Fee: EUR 176 ($ 200) for 10 to 30 Minutes


Detail Info
Mr Predrag Andrejevic MD. FACS. FRCSI. MFSEM. Dip.Lap. Surgery Consultant General, Colorectal, Emergency and Laparoscopic Surgeon Mr Andrejevic is a surgeon with more than 10 yrs experience in Laparoscopic Colorectal and Emergency Surgery. He has been at the forefront in introducing minimally invasive techniques, mainly colorectal resections, emergency laparoscopic colon and gall bladder resections, and abdominal wall hernia surgery. One of Mr Andrejevic activities is teaching undergraduate and post-graduate students. He holds position of the Post - Graduate training coordinator. He is the founder of the intranational post-graduate surgical program in Malta. His contribution to teaching and training surgeons locally and internationally gained him a place in the Educational and Training Committee of the European Association of Endoscopic Surgeons and at The Queens Mary University of London as Honorary Clinical Senior Lecturer. His primary research is in benign and malignant colorectal disease. He leads the local committee for the implementation of robotics in general surgery in Malta. Mr Andrejevic is the pioneer of Endoluminal obesity surgery in Malta. Mr Andrejevic has published locally and internationally and attended several international meetings as an invited speaker. He is also a peer reviewer for" The Surgeon" journal of the RCSEd and RCSI, Endoscopic Surgery and the World Journal of Surgical Oncology.
You can consult for any of the following symptoms: Acute lower central abdominal pain, Teratoma, Portal vein thrombosis, Localized tenderness in the left or right loin, Breast cysts, Post operative wound infection, Gastric polyps , Anal warts, Rectal foreign body, Thyreoid surgery, and so on.
1. Licence
2. Degree Certificates
3. Experience