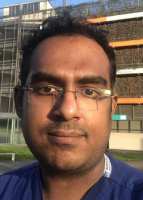 Mr. Aashish Raghu
Orthopedic Surgeon / Orthopedist
Stevenage, Hertfordshire, United Kingdom
introducing myself
Mr. Aashish Raghu - Stevenage, Hertfordshire
I am one of the highly qualified and an expert Orthopedic Surgeon / Orthopedist - Shoulder, Hip, Spine with an invaluable experience of over 7 years. My residence is in Stevenage, Hertfordshire, United Kingdom. I can fluently communicate with you in English, Hindi. I will be happy to assist you via video and audio online medical consultation.
Work Information
Working Experience: 7 years of experience


Available at Full Time for online consultation


Consultation Fee: GBP 36 ($ 50) for 10 to 30 Minutes


Detail Info
My duties included treating Orthopaedic patients in the trauma and elective clinic and performing Out patient minor procedures. I also performed common emergency trauma surgeries for patients admitted from the ED. I provided pre-operative and post-operative clinical care decisions in the Orthopaedic Ward Round. I performed independently and assisted in a variety of Orthopaedic Trauma surgeries, Arthroplasty, Arthroscopy, Deformity correction, bone and joint infections, Bone tumours. I also taught Orthopaedics to undergraduate students (MBBS) and post-graduate students.
You can consult for any of the following symptoms: Distal radius fracture, Suspected compartment syndrome, Bakers cyst, Osteonecrosis of knee, Gait abnormalities, Carpal tunnel syndrome, Joint pain, Avascular necrosis, Suspected scaphoid fracture, Back pain, and so on.
1. Licence
2. Degree Certificates
3. Experience