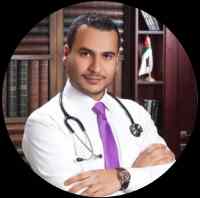 Dr. Yazeed Al-naif
Dermatologist
Khalda wa Tila-al-Ali, Amman, Jordan
introducing myself
Dr. Yazeed Al-naif - Khalda wa Tila-al-Ali, Amman
I am one of the highly qualified and an expert Dermatologist with an invaluable experience of over 7 years. My residence is in Khalda wa Tila-al-Ali, Amman, Jordan. I can fluently communicate with you in English, Arabic. I will be happy to assist you via video and audio online medical consultation.
Work Information
Working Experience: 7 years of experience


Available at Sunday to Thursday - 04:00 PM to 09:00 PM, Friday to Saturday - 09:00 AM to 09:00 PM for online consultation


Consultation Fee: JOD 35 ($ 50) for 10 to 30 Minutes


You can consult for any of the following symptoms: Tumour on the skin, Allergy, Dry lips, Hair loss, Pimple holes, Ringworm, Positive tuberculin skin test, Dry scalp, Urticaria, Photo sensitivity, and so on.
1. Licence
2. Degree Certificates
3. Experience
Dermatologist

JORDANIAN BOARD OF DERMATOLOGY AND VENEREOLGY, HAAD LICENSE OF DERMATOLOGY