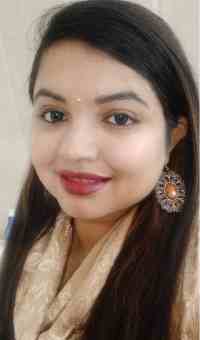 Dr. Seepika Jaiswal
Dermatologist
Lucknow, Uttar Pradesh, India
4.5
For , you will have the following:
Complete consultation, with a time duration from 20 to 30 minutes.
Prescription, right after your consultation.
Medical certificate (if any)
introducing myself
Dr. Seepika Jaiswal - Lucknow, Uttar Pradesh
I am one of the highly qualified and an expert Dermatologist - Cosmetic Dermatologist with an invaluable experience of over 6 years. My residence is in Lucknow, Uttar Pradesh, India. I can fluently communicate with you in English, Hindi. I will be happy to assist you via video and audio online medical consultation.
Work Information
Working place: K.K. Hospital


Working Experience: 6 years of experience


Consultation Fee:



You can consult for any of the following symptoms: Skin starkening, Hair loss, Clubbing, Generalized pruritus, Legulcer, Pigmented lesion, Red spot in skin, Genetic testing in a family with cancer predisposition, Positive tuberculin skin test, Photo sensitivity, and so on.
1. Licence
2. Degree Certificates
3. Experience
Dermatologist - Cosmetic Dermatologist

MBBS, DIPLOMATE DERMATOLOGY(LONDON), DIPLOMATE WEIGHT LOSS(LONDON), FELLOWSHIP IN AESTHETIC MEDICINE(GERMANY), MASTERS IN MEDICAL MICROPIGMENTATION (USA,DUBAI)