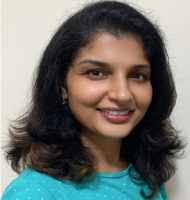 Dr. Sarita Dimri
Dermatologist
Bengaluru, Karnataka , India
introducing myself
Dr. Sarita Dimri - Bengaluru, Karnataka
I am one of the highly qualified and an expert Dermatologist with an invaluable experience of over 12 years. My residence is in Bengaluru, Karnataka , India. I can fluently communicate with you in English, Hindi. I will be happy to assist you via video and audio online medical consultation.
Work Information
Working place: Lundbeck


Working Experience: 12 years of experience


Available at Monday to Friday - 06:00 PM to 08:00 PM for online consultation


Consultation Fee: INR 11,224 ($ 150) for 10 to 30 Minutes


You can consult for any of the following symptoms: Keloids, Finger nail thickening, Urticaria, Tumour on the skin, Acne, Nodular nonsuppurative panniculitis, atopic dermatitis, Cellulitis, Warts on face, Papules, and so on.
1. Licence
2. Degree Certificates
3. Experience
Dermatologist

MD DERMATOLOGY