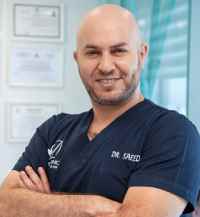 Dr. Saeed AL-DABAS
Dermatologist
Amman, Amman, Jordan
introducing myself
Dr. Saeed AL-DABAS - Amman, Amman
I am one of the highly qualified and an expert Dermatologist - Clinical &cosmetic Dermatologist with an invaluable experience of over 8 years. My residence is in Amman, Amman, Jordan. I can fluently communicate with you in English, Arabic. I will be happy to assist you via video and audio online medical consultation.
Work Information
Working Experience: 8 years of experience


Available at Saturday to Thursday - 09:00 AM to 10:00 PM for online consultation


Consultation Fee: JOD 141 ($ 200) for 10 to 30 Minutes


Detail Info
Dr. Saeed Debes as one of the most respected and nationally recognized dermatologists in Jordan; is board certified by the Association of Arab Physicians for Skin and Laser Diseases. Dr Debes specializes in a full range of non-invasive cosmetic procedures designed to rejuvenate and enhance your appearance. He is a leader in silhouette thread face lifting, hand rejuvenation, botox/ filler aided facial rejuvenation and under eye filler augmentation. He has an extensive experience in using advanced injection techniques and is passionate about helping his patients look and feel their absolute best and is always expanding his knowledge of the latest techniques in the field. Dr Debes has earned recognition in the media. He has been invited to appear on national and local television talk shows. He is also a frequent speaker at both local and national medical symposiums pertaining to the most advanced non-surgical lifting procedures, cosmetic laser surgery and latest treatments for skin diseases. He is the founder and owner of Dr DEBES Clinic, which is a cutting edge medical facility delivering the best in medical and cosmetic Dermatology. Dr Debes prides himself in offering the latest and most advanced cosmetic dermatology procedures in the industry and state-of-the-art technology. At Dr DEBES clinic, we are committed to the goal of constantly providing the highest quality and up-to-date medical care for our patients. Education Bachelor of Medicine and Surgery Jordan University of Science and Technology - Jordan Specialty– Internal medicine George Washington University - United States Specialty –Cosmetic and clinical dermatology Royal Medical Services - Jordan Professional memberships Registered physician/Dermatologist Jordan Medical association (JMA) Member Association of Arab Physicians for Skin and Laser Diseases Member American academy of dermatology (AAD) Member European academy of dermatology (EAD) Member American academy of aesthetic medicine Activities and honors Certifications Arab Board Certificate(ABC)–Clinical and cosmetic dermatology Honors Silhouette thread lifting lecturer and trainer Botox and filler lecturer and trainer Languages English: Full professional proficiency Arabic: Native proficiency
You can consult for any of the following symptoms: Blackheads, Allergy, Tumour on the skin, Photo sensitivity, Tanning, Psoriasis problem, Squamous cell carcinoma, Hair damage, Cellulitis, Clubbing, and so on.
1. Licence
2. Degree Certificates
3. Experience