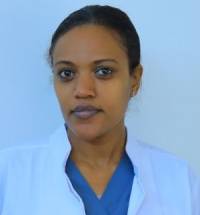 Dr. Mairie Guizaw Kebede
Dermatologist
Debre Zeyit, Oromia, Ethiopia
introducing myself
Dr. Mairie Guizaw Kebede - Debre Zeyit, Oromia
I am one of the highly qualified and an expert Dermatologist with an invaluable experience of over 8 years. My residence is in Debre Zeyit, Oromia, Ethiopia. I can fluently communicate with you in English, French. I will be happy to assist you via video and audio online medical consultation.
Work Information
Working place: Liyana Digital Teleheath Center


Working Experience: 8 years of experience


Available at Monday to Saturday 08:00 AM to 02:00 AM for online consultation


Consultation Fee: ETB 436 ($ 10) for 10 to 30 Minutes


Detail Info
I am Dermatologist who has worked for the last 8- 9 years graduated from Addis Ababa University and practiced Dermatology in ALERT hospital. I have been practising both at private and public centers especially in the area of dermatology of skin of color.
You can consult for any of the following symptoms: Red macule, Nodular nonsuppurative panniculitis, Skin ulceration, Skin lesions, Keloids, Wrinkles, Photosensitive rash, Red spot in skin, Cracked heels, Skin care , and so on.
1. Licence
2. Degree Certificates
3. Experience