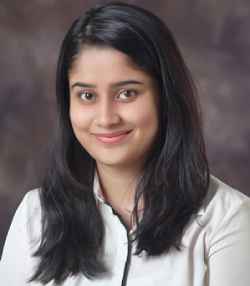 Dr. Ipsa Pandya
Dermatologist
Ahmedabad, Gujarat, India
introducing myself
Dr. Ipsa Pandya - Ahmedabad, Gujarat
I am one of the highly qualified and an expert Dermatologist with an invaluable experience of over 7 years. My residence is in Ahmedabad, Gujarat, India. I can fluently communicate with you in English, Gujarati, Hindi. I will be happy to assist you via video and audio online medical consultation.
Work Information
Working place: Amena Khatun Hospital


Working Experience: 7 years of experience


Available at Monday to Saturday - 10:00AM to 12:00PM And 05:00AM to 07:00PM for online consultation


Consultation Fee: INR 1,485 ($ 20) for 10 to 30 Minutes


Detail Info
Consultant Dermatologist (Gold medalist) providing services at some of the premium Aesthetic & Dermatology clinics in Ahmedabad,India. I look forward to adapting the emerging technologies in my practice in the best possible way while maintaining a fine balance of clinical and cosmetic dermatology.
You can consult for any of the following symptoms: Finger nail thickening, Allergy, Pimple holes, Photosensitive rash, Clubbing, Ringworm, Skin ulceration, Hirsutism, Itchy finger, Body odour, and so on.
1. Licence
2. Degree Certificates
3. Experience