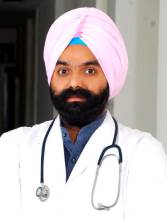 Dr. HP SINGH
Orthopedic Surgeon / Orthopedist
Amritsar, Punjab, India
introducing myself
Dr. HP SINGH - Amritsar, Punjab
I am one of the highly qualified and an expert Orthopedic Surgeon / Orthopedist with an invaluable experience of over 5 years. My residence is in Amritsar, Punjab, India. I can fluently communicate with you in English, Hindi, Punjabi. I will be happy to assist you via video and audio online medical consultation.
Work Information
Working place: Dr. HP SINGH Orthopaedic Speciality Centre


Working Experience: 5 years of experience


Available at Monday to Sunday - 05:00 PM to 09:00 PM for online consultation


Consultation Fee: INR 1,485 ($ 20) for 10 to 30 Minutes


Detail Info
Dr. HP SINGH is amongst the best known knee, hip and joint replacement surgeon in Punjab Region. In the small tenure, his name incur in reputed orthopedic surgeons due to his expertise. He has earned a celestial reputation for providing commendable patient care including surgical and non-surgical procedures with supreme precision, and has performed joint replacement surgery on hundreds of patients with astonishing results. He has completed his MS orthopedics in 2014 on the research topic "To compare the outcome of fractures of distal end of radius treated conservatively with immobilization in palmer flexion and in dorsiflexion".
You can consult for any of the following symptoms: Traumatic haemarthrosis, Radial head fracture, Flat feet, Scaphoid fracture, Knee effusion, Shoulder pain, Knee pain, Comminuted fracture, Sciatica, Chest wall trauma, and so on.
1. Licence
2. Degree Certificates
3. Experience