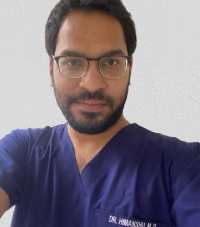 Dr. Himanshu Kumar
Dermatologist
Delhi, Delhi, India
introducing myself
Dr. Himanshu Kumar - Delhi, Delhi
I am one of the highly qualified and an expert Dermatologist with an invaluable experience of over 7 years. My residence is in Delhi, Delhi, India. I can fluently communicate with you in English, Hindi. I will be happy to assist you via video and audio online medical consultation.
Work Information
Working place: Delhi Dermatology And Allergy Clinic


Working Experience: 7 years of experience


Available at Monday to Saturday - 10:00 AM to 05:00 PM for online consultation


Consultation Fee: INR 1,485 ($ 20) for 10 to 30 Minutes


Detail Info
Board-certified dermatologist well experienced in clinical dermatology, pediatric, and Immuno-dermatology. Regularly attend conferences, publish and present papers to keep up to date with the modern advances that dermatology has taken. My focus areas are hormonal acne, pigmentation, alopecia and pediatric dermatology.
You can consult for any of the following symptoms: Body odour, Nodular nonsuppurative panniculitis, Skin starkening, Paederus dermatitis , Skin care , Trichomycosis, Premature grey hair, Psoriasis problem, Skin problem, Bumps on lips, and so on.
1. Licence
2. Degree Certificates
3. Experience