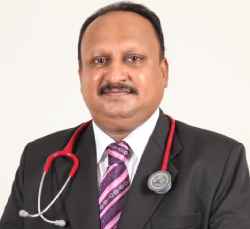 Dr. D. Shrinivas
Orthopedic Surgeon / Orthopedist
Mumbai, Maharashtra, India
introducing myself
Dr. D. Shrinivas - Mumbai, Maharashtra
I am one of the highly qualified and an expert Orthopedic Surgeon / Orthopedist - Back And Neck Specialist with an invaluable experience of over 20 years. My residence is in Mumbai, Maharashtra, India. I can fluently communicate with you in English, Hindi, Marathi, Telugu, Kannada, Tamil, Malayalam. I will be happy to assist you via video and audio online medical consultation.
Work Information
Working place: Kolekar Multispecialty Hospital & ICCU


Working Experience: 20 years of experience


Available at Monday to Saturday - 12:00 PM to 02:00 PM for online consultation


Consultation Fee: INR 1,485 ($ 20) for 10 to 30 Minutes


You can consult for any of the following symptoms: Shoulder pain, Elbow dislocation, Knee effusion, Dislocated knee, Knee pain, Traumatic haemarthrosis, Complicate pelvic rive, Cuboid injury, Suspected compartment syndrome, Back pain, and so on.
1. Licence
2. Degree Certificates
3. Experience
Orthopedic Surgeon / Orthopedist - Back And Neck Specialist

MD
English, Hindi, Marathi, Telugu, Kannada, Tamil, Malayalam