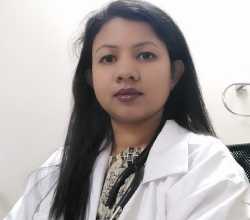 Dr. Deepti Kurmi
Obstetrician And Gynecologist
Pune, Maharashtra, India
introducing myself
Dr. Deepti Kurmi - Pune, Maharashtra
I am one of the highly qualified and an expert Obstetrician And Gynecologist - Infertility with an invaluable experience of over 10 years. My residence is in Pune, Maharashtra, India. I can fluently communicate with you in English, Hindi. I will be happy to assist you via video and audio online medical consultation.
Work Information
Working place: Apollo Clinic Kharadi


Working Experience: 10 years of experience


Available at Monday to Sunday - 08:00 PM to 12:00 AM for online consultation


Consultation Fee: INR 742 ($ 10) for 10 to 30 Minutes


Detail Info
I have done MBBS,DNB in Obstetrics and Gynecology , Certificate course in Reproductive Medicine . I have 10 years experience .
You can consult for any of the following symptoms: Anovulation, Unstable lie of the fetus, Menstrual problem, Contraception, Breech presentation, Low progesterone, Birth after cesarean(bac), parasite bite during pregnancy, Unfortunate of pregnancy, Endometriosis, and so on.
1. Licence
2. Degree Certificates
3. Experience