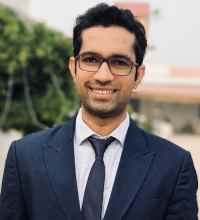 Dr. Deepak Jakhar
Dermatologist
New Delhi, Delhi, India
introducing myself
Dr. Deepak Jakhar - New Delhi, Delhi
I am one of the highly qualified and an expert Dermatologist with an invaluable experience of over 7 years. My residence is in New Delhi, Delhi, India. I can fluently communicate with you in English, Hindi, Punjabi. I will be happy to assist you via video and audio online medical consultation.
Work Information
Working place: Dermosphere Clinic


Working Experience: 7 years of experience


Available at Monday to Sunday - 10:00 AM to 05:00 PM for online consultation


Consultation Fee: INR 14,843 ($ 200) for 10 to 30 Minutes


Detail Info
Dr Deepak Jakhar is a board-certified Dermatologist and Medical Director at Dermosphere Clinic, New Delhi, India. He completed his MD from the prestigious University College of Medical Sciences, New Delhi. The internationally acclaimed dermatologist has received scholarships from top organizations including the American Academy of Dermatology and the European Academy of Dermatology & Venereology. Dr. Jakhar has more than 120 scientific publications in more than 25 indexed journals and has more than 500 citations to his work. He is the Editorial board member for the World Journal of Dermatology and serves as a reviewer for many international indexed journals. He has pioneered several novels works in the field of dermatology and is regarded as one of the top young researchers in dermatology.
You can consult for any of the following symptoms: Hair loss, Dark circles, Erythrasma, Psoriasis problem, Dermatitis herpetiformis, atopic dermatitis, Flat warts, Skin itchy, Photo sensitivity, Cellulitis, and so on.
1. Licence
2. Degree Certificates
3. Experience