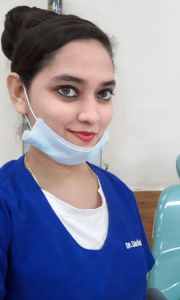 Dr. Darshana Sonawane
Dental Surgeon
Mumbai, Maharashtra, India
introducing myself
Dr. Darshana Sonawane - Mumbai, Maharashtra
I am one of the highly qualified and an expert Dental Surgeon - Orthodontics And Dentofacial Orthopaedics with an invaluable experience of over 7 years. My residence is in Mumbai, Maharashtra, India. I can fluently communicate with you in English, Hindi, Marathi . I will be happy to assist you via video and audio online medical consultation.
Work Information
Working place: Jains Dental Clinic


Working Experience: 7 years of experience


Available at Monday to Saturday - 03:00 PM to 10:00 PM & Sunday - 10:00 AM to 10:00 PM for online consultation


Consultation Fee: INR 3,746 ($ 50) for 10 to 30 Minutes


Detail Info
I am a very passionate orthodontist which deals with straightening teeth and correct jaw anomalies. My passion for orthodontics doesnt just come from creating beautiful smiles but also from building lifelong relationships with my patients. I love hearing about my patientshobbies, vacations, friends and family, and everything in between! I am raised in Mumbai, India in a qualified family of seven. I received my bachelors degree at Mahatma Gandhi Missions dental college, Navi Mumbai, India. Further, I continued my advanced education with a Master of Orthodontics and Dentofacial Orthopaedics degree from the reputed DY Patil University School of Dentistry, Navi Mumbai, India I love treating patients of all ages and believes in personalized treatment that is done comfortably and effectively. I also feels strongly about giving back to the community as I participated in numerous local dental camps. I am a member of the Indian Orthodontic Society, Indian Dental Association. I have national certificate under my name for best paper presentation. I am also associated with Dentist Channel online for delivering lectures. When I am not at work, I enjoy going for drive with my family , listening music.
You can consult for any of the following symptoms: Mouth lesions, Mouth hyperpigmentation, Jaw pain , Gingival growth, Mouth white lesions, Small jaw, Mouth red lesions, Dental trauma, Tooth bleeding, Bleeding gums, and so on.
1. Licence
2. Degree Certificates
3. Experience