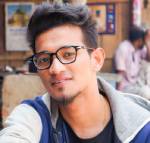 Dr. Aurnab Biswas
Dental Surgeon
24 Parganas (n), West Bengal, India
introducing myself
Dr. Aurnab Biswas - 24 Parganas (n), West Bengal
I am one of the highly qualified and an expert Dental Surgeon - Dental Implantology with an invaluable experience of over 6 years. My residence is in 24 Parganas (n), West Bengal, India. I can fluently communicate with you in English, Hindi, Bengali. I will be happy to assist you via video and audio online medical consultation.
Work Information
Working Experience: 6 years of experience


Available at Monday to Sunday - 24/7 for online consultation


Consultation Fee: INR 14,851 ($ 200) for 10 to 30 Minutes


Detail Info
Hello folks Its Dr.Aurnab Biswas here from India.Till my father is too in this profession,dentistry is kind of through my bloodline.Growing up in complete sophisticated environment after pre-university level I was able to secure my seat for dentistry at first in ABSMIDS,Nitte University,Mangalore. Although due to some unavoidable reasons I had to drop out my well achieved dream university after first year with broken heart. Later on that year after managing the circumstances I took up SAARC circular for higher education directly from the embassy and got myself admitted to a well renounced dental school naming Sapporo Dental College and Hospital,Dhaka University,Bangladesh and successfully accomplished my graduation and rotary Internship as well from there under supervision of Internationally renounced faculties and dental researchers available out there. Later on I returned to my home city and founded my private dental treatment unit Dr.Aurnabs Multispeciality Dental Clinic.Besides I have successfully completed various specific post graduation topics starting from hands on courses to short to long term theoretical and clinical papers that includes impaction managements,rotary endodontics,simplantology,phycological and behaviour managements,current ongoing pandemic Covid-managements etc from multiple schools. Currently I am officially attached to fellowship programme on Dental Implantology under Maharastra University of Health Science offered by Indian Dental Association and getting in touch with different research papers and online pinpoint topics over multiple dental sub specialities and recently founded my personal one stop dental clinic Dr.Aurnabs Odontologia.
You can consult for any of the following symptoms: Dental trauma, Mouth white lesions, Mouth red lesions, Bleeding gums, Mouth lesions, Dental abscess, Tooth ache, Oral ulceration , Tooth bleeding, Pain in gum, and so on.
1. Licence
2. Degree Certificates
3. Experience