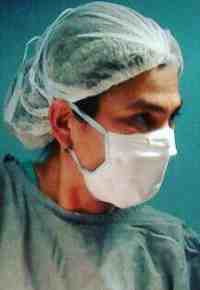 Dr. Adriana Buelvas
Orthopedic Surgeon / Orthopedist
San Justo, Buenos Aires, Argentina
introducing myself
Dr. Adriana Buelvas - San Justo, Buenos Aires
I am one of the highly qualified and an expert Orthopedic Surgeon / Orthopedist with an invaluable experience of over 5 years. My residence is in San Justo, Buenos Aires, Argentina. I can fluently communicate with you in English, Spanish. I will be happy to assist you via video and audio online medical consultation.
Work Information
Working place: Clinica modelo de Moron


Working Experience: 5 years of experience


Available at Tuesday, Friday, Saturday - 03:00 PM to 05:00 PM for online consultation


Consultation Fee: ARS 1,000 ($ 10) for 10 to 30 Minutes


Detail Info
Hola, soy la Dra. Adriana Buelvas 🔹Realicé mi Residencia Médica en el Hospital interzonal Dr. Diego Paroissien, sede de la Universidad de Buenos Aires UBA, en el que estuve por más de 4 años. 🔹Finalice mi carrera como especialista en Ortopedia y Traumatología avalada por la Universidad de Buenos Aires UBA, Asociación Argentina de Ortopedia y Traumatología AAOT y el Ministerio de Salud de la Nación Argentina.🇦🇷 🔹️Hice una rotación en traumatólogia infantil durante 6 meses en el hospital de niños Dr. Ricardo Gutiérrez 🇦🇷 🔹️Hice cursos de perfeccionamiento en pie y tobillo del Samecipp. 🔹️He asistido a los congresos argentinos de ortopedia y traumatólogia número 54, 55, 56 y 57. 🔹️Actualmente, desarrollo una investigación en medicina Biológica para el tratamiento de patologías como tendinopatías crónicas refractarias de hombro, codo, rodilla o tobillo; pseudoartrosis o retardos de consolidación; artrosis. ♦️ Estaré atendiendo a toda la comunidad con la mejor atención personalizada con calidad y calidez. Teléfono / Whatsapp: +5491138784338
You can consult for any of the following symptoms: Avascular necrosis, Sciatica, Foot lump, Traumatic haemarthrosis, Heel and tendon pain, Back pain, Ankle pain, Scaphoid fracture, Internal derangement of knee, Complex pelvic fracture, and so on.
1. Licence
2. Degree Certificates
3. Experience