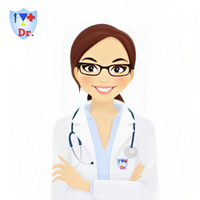 Dr. Shikha Dogra
Dentist
Ghaziabad, Uttar Pradesh, India
4.5
The paid amount entitles you to the following benefits:
A full consultation lasting between 20 to 30 minutes
A prescription provided immediately after your consultation
Provision of a medical certificate (if required)
introducing myself
Dr. Shikha Dogra - Ghaziabad, Uttar Pradesh
I am one of the highly qualified and an expert Dentistry - Pedodontics with an invaluable experience of over 19 years. My residence is in Ghaziabad, Uttar Pradesh, India. I can fluently communicate with you in English, Hindi. I will be happy to assist you via video and audio online medical consultation.
Work Information
Working Experience: 19 years of experience


Detail Info
I did BDS from Government College Shimla & Post Graduation from Government College Puducherry. My specialty is Pediatric Dentistry.
You can consult for any of the following symptoms: Dental Swelling , Mouth Swelling, Tooth Swelling, Halitosis, Malodour, Bad Breath, Breath Smells, Foul Breath, Tooth Stains, Teeth Stains, White Teeth, White Tooth, White Tooths, White Teeths, Bright Teeth, Bright Tooth, Dentist, Dental, Dental Specialist, Dental Expert, Dental Experts, Dental Specialists, Teeth Replacement, Acid Table and so on.
1. Licence
2. Degree Certificates
3. Experience