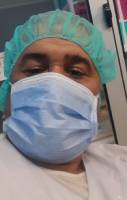 Dr. Rachidi
Obstetrician And Gynecologist
Birkan, Oriental, Morocco
4.5
The paid amount entitles you to the following benefits:
A full consultation lasting between 20 to 30 minutes
A prescription provided immediately after your consultation
Provision of a medical certificate (if required)
introducing myself
Dr. Rachidi - Birkan, Oriental
I am one of the highly qualified and an expert Obstetrician And Gynecology with an invaluable experience of over 27 years. My residence is in Birkan, Oriental, Morocco. I can fluently communicate with you in English, French. I will be happy to assist you via video and audio online medical consultation.
Work Information
Working Experience: 27 years of experience


You can consult for any of the following symptoms: Pelvic Pain, Pain in Pelvis, Pain in Pelvic, Pelvic Pains, Vaginal Bleeding, Bleeding From Vagina, Pv Bleed, Pv Bleeding, Travelling in Gestation, Travelling in Pregnancy, Lumps in The Vagina, Bumps on Vagina, Bumps on Vaginal, Bump on Lips of Vagina, Bumps on Lips of Vagina, Lump Down Under, Lumps Down Under, Vagina Lump, Vaginal Boil, Vaginal Boils, Vaginal Lumps, Lumps on The Vagina, Vaginal Lumps and Bumps, Vaginal Bumps, Vulval Lumps and so on.
1. Licence
2. Degree Certificates
3. Experience
Obstetrician And Gynecologist

MBBS