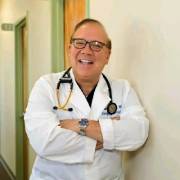 Dr. David Wright
Emergency Medicine Specialist
Charleston, South Carolina, United States
4.5
The paid amount entitles you to the following benefits:
A full consultation lasting between 20 to 30 minutes
A prescription provided immediately after your consultation
Provision of a medical certificate (if required)
introducing myself
Dr. David Wright - Charleston, South Carolina
I am one of the highly qualified and an expert Emergency Medicine - Primary Care with an invaluable experience of over 35 years. My residence is in Charleston, South Carolina, United States. I can fluently communicate with you in English. I will be happy to assist you via video and audio online medical consultation.
Work Information
Working place: Charleston Emergency Physicians


Working Experience: 35 years of experience


Detail Info
Skilled in Emergency Medicine and Urgent Care with 35 years of experience and 200,000 patient encounters.
ED Medical Directorship and Urgent Care ownership experience.
Teaching, Telemedicine and Medical Expert Witness experience.
High level of energy, enthusiasm, integrity and compassion.
Experienced in a variety of practice settings. Able to efficiently manage a large volume of patients.
Respected by staff and trusted by patients .
Able to grow a practice.
You can consult for any of the following symptoms: Radiation Casualties, Skin Reaction, Skin Reactions, Whooping Cough, Pertussis and so on.
1. Licence
2. Degree Certificates
3. Experience