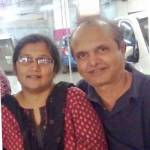 Dr. Arun A Mehta
Internal Medicine Specialist
Pune, Maharashtra, India
4.5
The paid amount entitles you to the following benefits:
A full consultation lasting between 20 to 30 minutes
A prescription provided immediately after your consultation
Provision of a medical certificate (if required)
introducing myself
Dr. Arun A Mehta - Pune, Maharashtra
I am one of the highly qualified and an expert Internal Medicine - Non Invasive Cardiology with an invaluable experience of over 45 years. My residence is in Pune, Maharashtra, India. I can fluently communicate with you in English, Hindi, Gujarati. I will be happy to assist you via video and audio online medical consultation.
Work Information
Working Experience: 45 years of experience


Detail Info
I graduated from Grant Medical College, Mumbai, in 1974. After 2 years of postgraduate medical work, I continued further training in NY, USA. at Creedmoor State Hospital, St. Johns Episcopal Hospital, Southshore Hospital, St. Marys Hospital, Mary Immaculate Hospital, Long Island Jewish Hospital. I certified in In Internal Medicine and Qualified in Non-Invasive Cardiology. I worked at Catholic Medical Center Queens, practiced in Sunnyside and Brooklyn. I moved to Los Angeles CA in 1992 and worked at St Vincent Medical Center till 1998. I have also been cruise doctor for Norwegian Cruise Line and Royal Caribbean Cruise Lines. I have provided excellent ,prompt and life saving, health saving timely medical care, competent diagnosis and rational balanced advice and safe medical care. I have been registered and licensed in states of New York, Connecticut, New Jersey and California from 1977 and all of them have been in good standing.
You can consult for any of the following symptoms: Confusion, Topsyturvydom, Schemozzle, Bluster, Chaos, Pandemonium, Hugger Mugger, Huggermugger, Shemozzle, Confused, Nausea and Vomiting, Nauseas Vomiting, Nausea, Vomiting, Vomit, Night Sweats, Sweating at Night Time, Night Sweat, Syncope, Fainting, Lost Consciousness, Loss of Consciousness, Slow Fever, Salmonella Enterica Serotype Typhi Bacteria, Enteric Fever and so on.
1. Licence
2. Degree Certificates
3. Experience