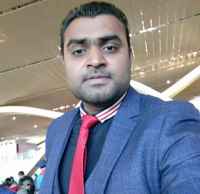 Dr. Maneendra Yadav
Surgeon
Kathmandu, Bagmati, Nepal
4.5
The paid amount entitles you to the following benefits:
A full consultation lasting between 20 to 30 minutes
A prescription provided immediately after your consultation
Provision of a medical certificate (if required)
introducing myself
Dr. Maneendra Yadav - Kathmandu, Bagmati
I am one of the highly qualified and an expert Surgery - Neurosurgery with an invaluable experience of over 2 years. My residence is in Kathmandu, Bagmati, Nepal. I can fluently communicate with you in English, Chinese, Hindi, Nepali, Urdu, Maithili. I will be happy to assist you via video and audio online medical consultation.
Work Information
Working Experience: 2 years of experience


Detail Info
Experience
General Surgery Resident,
Zhengzhou University,The First Affiliated Hospital · Full-time,
Sep 2020 - Present · 2 years 9 months,
Zhengzhou, Henan, China
Medical Doctor,
Neuro One Hospital · Full-time,
Sep 2019 - Aug 2020 · 1 years
one year rotatory internship,
Jun 2017 - Jun 2018 · 1 year 1 month,
Weifang, Shandong, China
Medical Doctor(MD),
Affiliated Hospital of Weifang Medical University,
Jun 2017 - Jun 2018 · 1 year 1 month
Education
Weifang Medical College,
Bachelor of Medicine, Bachelor of Surgery - MBBS, clinical medicine ,Surgery and linguistics,
2012 - 2018
pentagon int' l college,
Advanced science, Physics,chemistry,mathematics,Biology and English,
2009 - 2011
st.joseph's school,
High School Diploma, High School/Secondary Diplomas and Certificates,
2002 - 2009
You can consult for any of the following symptoms: Abdominal Pain, Abdominal Pains, Stomach Pains, Stomach Problem, Stomach Problems, Stomach Pain, Belly Pain, Belly Ache, Abdomen Ache, Stomach Ache, Abdomen Pain, Flank Pain, Pain in Stomach, Pain in The Stomach , Stomachache, Stomachaches, Stomach Aches, Tummy Ache, Tummyache, Tummy Aches, Tummy Pain, Lump in Axilla, Armpit Swelling, Lumps in Arm Pit, Lump in Arm Pit and so on.
1. Licence
2. Degree Certificates
3. Experience