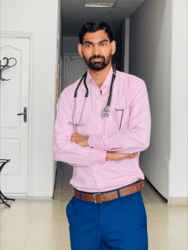 Dr. Hitesh Kumar
Internal Medicine Specialist
Fatehabad, Haryana, India
4.5
The paid amount entitles you to the following benefits:
A full consultation lasting between 20 to 30 minutes
A prescription provided immediately after your consultation
Provision of a medical certificate (if required)
introducing myself
Dr. Hitesh Kumar - Fatehabad, Haryana
I am one of the highly qualified and an expert Internal Medicine - General Medicine with an invaluable experience of over 1 year. My residence is in Fatehabad, Haryana, India. I can fluently communicate with you in English, Hindi. I will be happy to assist you via video and audio online medical consultation.
Work Information
Working Experience: 1 year of experience


You can consult for any of the following symptoms: Confusion, Topsyturvydom, Schemozzle, Bluster, Chaos, Pandemonium, Hugger Mugger, Huggermugger, Shemozzle, Confused, Nausea and Vomiting, Nauseas Vomiting, Nausea, Vomiting, Vomit, Night Sweats, Sweating at Night Time, Night Sweat, Syncope, Fainting, Lost Consciousness, Loss of Consciousness, Slow Fever, Salmonella Enterica Serotype Typhi Bacteria, Enteric Fever and so on.
1. Licence
2. Degree Certificates
3. Experience
Internal Medicine Specialist - General Medicine

MD