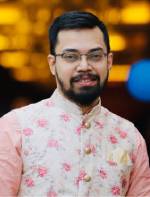 Dr. Gagan Jaiswal
Radiologist
Alwar, Rajasthan, India
4.5
The paid amount entitles you to the following benefits:
A full consultation lasting between 20 to 30 minutes
A prescription provided immediately after your consultation
Provision of a medical certificate (if required)
introducing myself
Dr. Gagan Jaiswal - Alwar, Rajasthan
I am one of the highly qualified and an expert Radiology with an invaluable experience of over 3 years. My residence is in Alwar, Rajasthan, India. I can fluently communicate with you in Hindi, English . I will be happy to assist you via video and audio online medical consultation.
Work Information
Working place: Curewell Diagnostic Centre


Working Experience: 3 years of experience


Detail Info
Experiences:
Radiologist,
Jul 2017 - Present,
Curewell diagnostic centre,
Alwar, Rajasthan, India.
Resident Doctor,
Jun 2014 - Jun 2017,
Geetanjali medical college and hospital.
Junior Resident,
Jan 2014 - Apr 2014,
Dr . Ram manohar lohia hospital new delhi,
New Delhi Area, India.
Intern doctor,
Sep 2012 - Jun 2013,
Sir gangaram hospital,
New Delhi Area, India.
Education:
Bachelor of Medicine, Bachelor of Surgery (M.B.B.S.),
Medicine, 2007 - 2012
Bharati Vidyapeeth
You can consult for any of the following symptoms: Mammographic Mass of Right Breast, Mammographic Mass of Left Breast, Mammographic Mass of Both Breasts, Mammographic Mass of Bilateral Breasts, Mammographic Breast Mass, Mammographic Breast Composition Showing Scattered Fibroglandular Densities, Focal Asymmetric Breast Tissue, Abnormal Mammogram Breast Neoplasm Screening Abnormal, Abnormal Findings on Diagnostic Imaging of Breast, Abnormality Mammogram, Upper Mediastinal Widening, Round Opacity (or Opacities) Greater Than 5mm in Diameter, Opacities, Lung Round Opacity, Multiple Nodular Shadows and Miliary Mottling, Lung Miliary Shadow, Enlarged Hilar Shadowing, Pulmonary Hypertension, Lung Hilar Shadow, Single Area of Dark lung, Solitary Pulmonary Nodule , Symmetrically Dark lungs, Dark Lungs, Diffuse Poorly Defined Hazy Opacification, Multifocal Ill Opacities and so on.
1. Licence
2. Degree Certificates
3. Experience