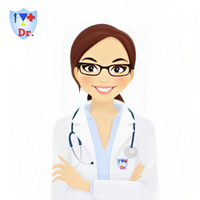 Dr. Boukhechem Imane
Gastroenterologist
ad-Dawhah, ad-Dawhah, Qatar
4.5
The paid amount entitles you to the following benefits:
A full consultation lasting between 20 to 30 minutes
A prescription provided immediately after your consultation
Provision of a medical certificate (if required)
introducing myself
Dr. Boukhechem Imane - ad-Dawhah, ad-Dawhah
I am one of the highly qualified and an expert Gastroenterology with an invaluable experience of over 1 year. My residence is in ad-Dawhah, ad-Dawhah, Qatar. I can fluently communicate with you in English, French, Arabic . I will be happy to assist you via video and audio online medical consultation.
Work Information
Working Experience: 1 year of experience


You can consult for any of the following symptoms: Dysphagia, Painful Swallowing, Food Getting Stuck in Throat, Difficulty in Swallowing, Swallowing Difficulty, Cant Swallow, Can Not Swallow, Can Not Swallowing, Tenesmus, , Motion Blocked, Blocked Motion, Constipation, Not Able to Poop, Hard Stool, Hard to Poop, Irregularity in Abdomen, Fecal Impaction, Dyschezia, Obstipation, Impairment, Rectal Bleeding, Haematochezia, Passage of Bright Blood, Blood in Motion and so on.
1. Licence
2. Degree Certificates
3. Experience