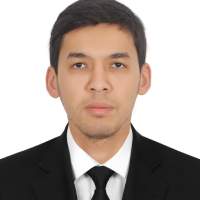 Mr. Akhrorbek
Dermatologist
Andijon, Andijon, Uzbekistan
introducing myself
Mr. Akhrorbek - Andijon, Andijon
I am one of the highly qualified and an expert Dermatologist - Venereology with an invaluable experience of over 4 years. My residence is in Andijon, Andijon, Uzbekistan. I can fluently communicate with you in English, Russian. I will be happy to assist you via video and audio online medical consultation.
Work Information
Working Experience: 4 years of experience


Available at Monday to Saturday - 10:00 AM to 08:00 PM for online consultation


Consultation Fee: UZS 107,430 ($ 10) for 10 to 30 Minutes


Detail Info
As an assistant trainee in the Department of Dermatology and Venereology in Andijan State Medical Institute being unique in Fergana valley that has about five thousand students, I have the responsibility of teaching the 3rd and 4th-year students in the field of skin diseases and disease transmissions along with giving the students an empirical knowledge about treatment and research. Additionally, I have been researching in the fields of General Medicine, Dermatology, and Medical Administration and striving to implement effective methods of writing research papers and publishing them to strengthen the reputation of our institute as we have the strategy to expand into international horizons. Moreover, I have been actively participating in conferences and events like the Scientific and Practical Conference of "Actual Problems of Dermatovenereology and Aesthetic Medicine", "Simulative Education in Medicine: experience, development and innovation" and others to gain experience and share them with the students, and fellow researchers at the institute to contribute to its advancement. My major obligations are: Teaching the 3rd and 4th-year students in the field of skin diseases and disease transmissions; Work with patients with skin diseases or other related ones and cure them using contemporary techniques; Work with students, analyze their potential, and evaluate them; Consult the students; Give students empirical knowledge about treatment techniques; Research in the field of Medical Treatments and Dermatology, and mentor students about the methods of doing research like EBM. Participate in conferences and events.
You can consult for any of the following symptoms: Skin starkening, Skin problem, Brown macule, Positive tuberculin skin test, Ringworm, Squamous cell carcinoma, Papules, Dermatomyositis, Generalized pruritus, Groin itching, and so on.
1. Licence
2. Degree Certificates
3. Experience