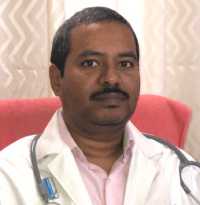 Dr. Sudhir Pudi
Radiologist
Hyderabad, Telangana, India
introducing myself
Dr. Sudhir Pudi - Hyderabad, Telangana
I am one of the highly qualified and an expert Radiologist - Varicose Veins with an invaluable experience of over 12 years. My residence is in Hyderabad, Telangana, India. I can fluently communicate with you in English, Telugu, Hindi. I will be happy to assist you via video and audio online medical consultation.
Work Information
Working place: Dr Sudhirs Scan Center And Varicose Vein Clinic


Working Experience: 12 years of experience


Available at Monday to Friday - 4:00AM to 6:00PM for online consultation


Consultation Fee: INR 3,712 ($ 50) for 10 to 30 Minutes


Detail Info
MBBS, DNB – Radio-Diagnosis, 15+ years experience, Radiologist, Interventional Radiologist Dr. Sudhir Pudi is a Radiologist with an experience of 15 years in radiology, having worked in some of the premier hospitals in the country. After graduating from Government Medical College, Chengalpat, He did an overseas stint in the UK following his Graduation. Later Pursuing his core interest in Imaging, he did his post-graduation in Radiology (DNB) at Kamineni Hospital, Hyderabad. He is a general radiologist with good expertise and experience in almost all the modalities and organs, but special areas of interest include Vascular Radiology, Musculoskeletal Radiology, and Fetal Imaging including Ultrasound and MRI. While doing his course he has noticed a lacuna in the investigation and treatment of varicose veins and felt that there is no much awareness about venous issues, and most patients get sub-optimal care. He, therefore, has pursued specialized, advanced training in the mapping of varicose veins with Doppler ultrasound, ultrasound-guided sclerotherapy, endovenous laser ablation, and cosmetic phlebology.
You can consult for any of the following symptoms: Enlarged hilar shadowing, Symmetrically dark lungs, Diffuse poorly defined hazy opacification, Mammographic mass of right breast, Upper mediastinal widening, Round opacity (or opacities) greater than 5mm in diameter, Multiple nodular shadows and miliary mottling, Single area of dark lung, and so on.
1. Licence
2. Degree Certificates
3. Experience