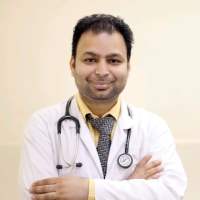 Dr. Sourabh Aggarwal
Surgeon
Ganganagar, Rajasthan, India
introducing myself
Dr. Sourabh Aggarwal - Ganganagar, Rajasthan
I am one of the highly qualified and an expert Surgeon - Laparoscopic Surgeon with an invaluable experience of over 8 years. My residence is in Ganganagar, Rajasthan, India. I can fluently communicate with you in English, Hindi. I will be happy to assist you via video and audio online medical consultation.
Work Information
Working place: Adarsh Nursing Home


Working Experience: 8 years of experience


Available at Monday to Sunday - 08:00 AM to 10:00 AM And 05:00 PM to 08:00 PM for online consultation


Consultation Fee: INR 742 ($ 10) for 10 to 30 Minutes


Detail Info
Doing all sort of laparoscopic surgery and laser proctologist
You can consult for any of the following symptoms: Inguinal hernia descended into scrotum, Thyreoid surgery, Aspiration of foreign body, Rectal foreign body, Teratoma, Lipoma, Rectal foreign body, Breast discharge, Localized tenderness in the left or right loin, Post operative wound infection, and so on.
1. Licence
2. Degree Certificates
3. Experience