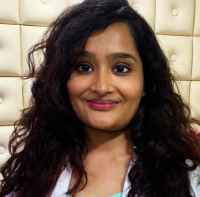 Dr. Shreya Hajari
Dermatologist
Mumbai, Maharashtra, India
introducing myself
Dr. Shreya Hajari - Mumbai, Maharashtra
I am one of the highly qualified and an expert Dermatologist - Aesthetic Dermatology with an invaluable experience of over 7 years. My residence is in Mumbai, Maharashtra, India. I can fluently communicate with you in English, Hindi, Marathi. I will be happy to assist you via video and audio online medical consultation.
Work Information
Working place: Peoples Mobile Hospital


Working Experience: 7 years of experience


Available at Monday to Saturday - 04:00 PM to 08:00 PM for online consultation


Consultation Fee: INR 1,490 ($ 20) for 10 to 30 Minutes


Detail Info
Dr. Shreya Hajari is a gold medalist from the prestigious Christian Medical College, Vellore. Having acquired significant experience in Clinical Dermatology she completed a Fellowship from Rajiv Gandhi University of Health Sciences in Aesthetic Dermatology. She is also a certified Member of Royal College of Physicians (MRCP) having cleared her SCE in Dermatology as an International Student. She presents a rare combination of sharp clinical acumen along with experience in dealing with cosmetology issues. Her patients describe her as caring, approachable and empathetic to their problems. She has a unique gift of breaking down complex medical issues into simple words which are easily understood by the patient.
You can consult for any of the following symptoms: Dry lips, Red macule, Hair loss, Body odour, Dark spots, Itchy finger, Pubic lice, Fordyce spots, Nodules, Cellulitis, and so on.
1. Licence
2. Degree Certificates
3. Experience