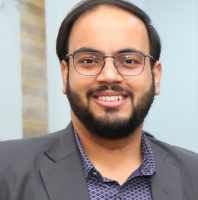 Dr. Saurabh Bhatia
Dermatologist
Faridabad, Haryana, India
introducing myself
Dr. Saurabh Bhatia - Faridabad, Haryana
I am one of the highly qualified and an expert Dermatologist with an invaluable experience of over 6 years. My residence is in Faridabad, Haryana, India. I can fluently communicate with you in English, Hindi, Punjabi, French. I will be happy to assist you via video and audio online medical consultation.
Work Information
Working place: TheStartupKeeda.com


Working Experience: 6 years of experience


Available at Monday to Sunday - 03:00 PM to 09:00 PM for online consultation


Consultation Fee: INR 3,705 ($ 50) for 10 to 30 Minutes


Detail Info
Senior Resident Doctor with more than 6 years of experience in managing skin diseases and surgical management of common skin disorders, at All India Institute of Medical Sciences, New Delhi in New Delhi
You can consult for any of the following symptoms: Hirsutism, Paederus dermatitis , Leg oedema, Pigmented lesion, Dark circles, Papules, Positive tuberculin skin test, Pale macule, Ringworm, Photosensitive rash, and so on.
1. Licence
2. Degree Certificates
3. Experience