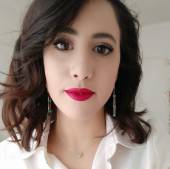 Dr. Sana Lalam
Surgeon
Hydra, Algiers, Algeria
introducing myself
Dr. Sana Lalam - Hydra, Algiers
I am one of the highly qualified and an expert Surgeon with an invaluable experience of over 4 years. My residence is in Hydra, Algiers, Algeria. I can fluently communicate with you in English, French, Arabic, German. I will be happy to assist you via video and audio online medical consultation.
Work Information
Working place: Liste des hôpitaux en Algérie


Working Experience: 4 years of experience


Available at Monday to Sunday - 02:00 PM to 12:00 AM for online consultation


Consultation Fee: DZD 2,683 ($ 20) for 10 to 30 Minutes


Detail Info
Ambitious surgeon doctor, always happy to see my patients go happier and feeling better than when they came to see me.
You can consult for any of the following symptoms: Swallowed foreign object, Rectal discharge, Lump in axilla, Portal vein thrombosis, Breast pain, Anal fissure, Abdominal pain, Groin swelling, Vomiting due to intestinal obstruction, Breast lumps, and so on.
1. Licence
2. Degree Certificates
3. Experience