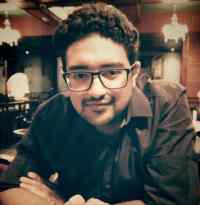 Dr. Sahil Thakur
Ophthalmologist
Singapore, Singapore, Singapore
introducing myself
Dr. Sahil Thakur - Singapore, Singapore
I am one of the highly qualified and an expert Ophthalmologist - Glaucoma with an invaluable experience of over 6 years. My residence is in Singapore, Singapore, Singapore. I can fluently communicate with you in English, Hindi, Punjabi. I will be happy to assist you via video and audio online medical consultation.
Work Information
Working place: Singapore Eye Research Institute (SERI)


Working Experience: 6 years of experience


Available at Monday to Friday - 06:00 PM to 10:00 PM, Saturday to Sunday - 10:00 AM to 04:00 PM for online consultation


Consultation Fee: SGD 13 ($ 10) for 10 to 30 Minutes


Detail Info
I am an ophthalmologist trained in India, currently in Singapore doing a glaucoma research fellowship. Contact for any eye-related disorders.
You can consult for any of the following symptoms: Eyelid lump, Iritis, Vision loss, Blocked tear duct, Eye strain, Corneal abrasion, Eyes watering, Eyelid problems, Ingrown hairs, Asymmetrical eyes, and so on.
1. Licence
2. Degree Certificates
3. Experience