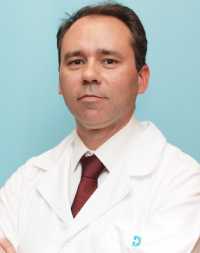 Dr. Nuno Sampaio Gomes
Orthopedic Surgeon / Orthopedist
Porto, Norte, Portugal
4.5
introducing myself
Dr. Nuno Sampaio Gomes - Porto, Norte
I am one of the highly qualified and an expert Orthopedic Surgeon / Orthopedist - Shoulder Surgery with an invaluable experience of over 24 years. My residence is in Porto, Norte, Portugal. I can fluently communicate with you in Portuguese, English, Spanish, French. I will be happy to assist you via video and audio online medical consultation.
Work Information
Working place: Hospital da Luz Arrábida


Working Experience: 24 years of experience


Consultation Fee:

USD $120



Detail Info
Nuno Sampaio Gomes, an Orthopaedics Consultant with a strong dedication to shoulder surgery since 2003. Completed his residency in 2006 at University Hospital in Porto, with several shoulder arthroscopy fellowships in France and Spain. Author and co-author of several publications, he is also regularly Faculty member in Training Courses for his peers, namely on shoulder arthroscopy. Board member of the European Shoulder Associates of ESSKA, recently elected for next Vice-Chairman.
You can consult for any of the following symptoms: Elbow pain, Pathological fracture of a long bone, Hand pain, Complex pelvic fracture, Knee effusion, Wrist pain, Femoral fracture, Complicate pelvic rive, Scoliosis, Heel and tendon pain, and so on.
1. Licence
2. Degree Certificates
3. Experience