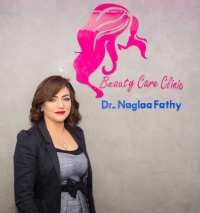 Dr. Naglaa Fathy AL- Saeed
Dermatologist
al-Qahira, al-Qahira, Egypt
introducing myself
Dr. Naglaa Fathy AL- Saeed - al-Qahira, al-Qahira
I am one of the highly qualified and an expert Dermatologist - Dermatology , Cosmetology And Laser with an invaluable experience of over 16 years. My residence is in al-Qahira, al-Qahira, Egypt. I can fluently communicate with you in English, Arabic. I will be happy to assist you via video and audio online medical consultation.
Work Information
Working place: Beauty Care Clinic Dr Naglaa Fathy


Working Experience: 16 years of experience


Available at Friday, Saturday, Sunday, Thursday - 09:00 PM to 12:00 PM for online consultation


Consultation Fee: EGP 4,708 ($ 300) for 10 to 30 Minutes


Detail Info
- B.Sc in internal medicine and surgery , Master Degree of Dermatology and Venereology , Diploma of laser and 16 years of experience in dermatology , cosmetology and laser.
You can consult for any of the following symptoms: Urticaria, Leg oedema, Red nose, Bumps on lips, Positive tuberculin skin test, Pigmentation disorder, Warts on face, Skin lesions, Epidermal nevus, Pigmented moles, and so on.
1. Licence
2. Degree Certificates
3. Experience