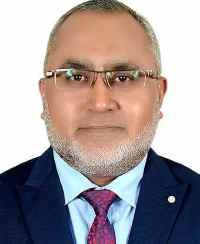 Dr. Muhammad Shahzad
Dermatologist
Dubai, Dubai, United Arab Emirates
introducing myself
Dr. Muhammad Shahzad - Dubai, Dubai
I am one of the highly qualified and an expert Dermatologist with an invaluable experience of over 23 years. My residence is in Dubai, Dubai, United Arab Emirates. I can fluently communicate with you in English, Urdu, Hindi, Arabic. I will be happy to assist you via video and audio online medical consultation.
Work Information
Working place: Lamsa Medical Center


Working Experience: 23 years of experience


Available at Friday - 03:00 PM to 05:00 PM for online consultation


Consultation Fee: AED 367 ($ 100) for 10 to 30 Minutes


Detail Info
• I did my Fellowship in Dermatology in 2004. • I am Consultant Dermatology by Saudi Commission for Health Specialties (SCFHS) & Pakistan Medical & Dental Council (PMDC). I am Specialist Dermatology by Dubai Health Authority (DHA) & Health Authority of Abu Dhabi (HAAD). • Total 23 years Dermatology & Cosmetology experience (16 years' post-fellowship) in patients' management in busy clinical healthcare settings. • I have experience in the management of all types of dermatology cases from mild cases to the most severe cases who need admission in the hospital. • Experienced in all types of cosmetology procedures including Fillers, Botox, PRP, Mesotherapy for skin rejuvenation, hair growth & fat reduction, Non-surgical face lift & tightening, Hydrafacial, Microdermabrasion, Chemical peels, etc. • Experienced in all types of Laser therapy for Dermatology & Cosmetology problems. • Huge experience in dermatological therapeutic procedures like Cautery, Fulguration, Cryotherapy & Intralesional steroids. • Excellent communication skills with ability to develop a good professional relationship with a diverse patient population (English, Arabic, Hindi & Urdu). • Extensive academic experience in teaching dermatology (14 years) to undergraduate and postgraduate students.
You can consult for any of the following symptoms: Dark spots, Squamous cell carcinoma, Erythrasma, Allergy, Skin starkening, Epidermal nevus, Clubbing, Cracked heels, Genetic testing in a family with cancer predisposition, Skin ulceration, and so on.
1. Licence
2. Degree Certificates
3. Experience