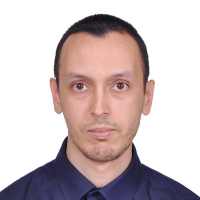 Dr. Mohammed Abdallah Belazzouz
Dermatologist
ad-Dawhah, ad-Dawhah, Qatar
introducing myself
Dr. Mohammed Abdallah Belazzouz - ad-Dawhah, ad-Dawhah
I am one of the highly qualified and an expert Dermatologist with an invaluable experience of over 3 years. My residence is in ad-Dawhah, ad-Dawhah, Qatar. I can fluently communicate with you in English, French, Arabic. I will be happy to assist you via video and audio online medical consultation.
Work Information
Working place: The Laser Clinic


Working Experience: 3 years of experience


Available at 24/7 for online consultation


Consultation Fee: QAR 182 ($ 50) for 10 to 30 Minutes


Detail Info
Dermatologist in Algeria,saudi Arabia and now in qatar
You can consult for any of the following symptoms: Erythrasma, Hirsutism, Dermatitis herpetiformis, Nodular nonsuppurative panniculitis, Skin itchy, Tanning, Eczema, Hyperpigmentation, Tumour on the skin, Legulcer, and so on.
1. Licence
2. Degree Certificates
3. Experience