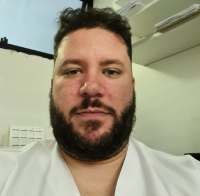 Dr. Luciano Martin LOPEZ NOE
Orthopedic Surgeon / Orthopedist
Accra, Buenos Aires, Argentina
introducing myself
Dr. Luciano Martin LOPEZ NOE - Accra, Buenos Aires
I am one of the highly qualified and an expert Orthopedic Surgeon / Orthopedist - Pain Treatment with an invaluable experience of over 6 years. My residence is in Accra, Buenos Aires, Argentina. I can fluently communicate with you in English, Portuguese. I will be happy to assist you via video and audio online medical consultation.
Work Information
Working Experience: 6 years of experience


Available at Wednesday - 04:00 PM to 06:00 PM, Thursday - 10 AM to 02:00 PM for online consultation


Consultation Fee: ARS 2,281 ($ 20) for 10 to 30 Minutes


Detail Info
I am an orthopedist specializing in spine and pain treatment
You can consult for any of the following symptoms: Wrist pain, Complex pelvic fracture, Back pain, Non limb threatening open fracture, Shoulder swelling, Avascular necrosis, Knee replacement, Joint pain, Sciatica, Comminuted fracture, and so on.
1. Licence
2. Degree Certificates
3. Experience