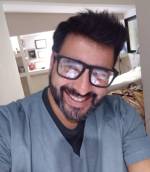 Dr. Leonardo Ponce
Surgeon
Cordoba, Cordoba, Argentina
introducing myself
Dr. Leonardo Ponce - Cordoba, Cordoba
I am one of the highly qualified and an expert Surgeon - Flebologia Y Linfologia with an invaluable experience of over 15 years. My residence is in Cordoba, Cordoba, Argentina. I can fluently communicate with you in English, Spanish. I will be happy to assist you via video and audio online medical consultation.
Work Information
Working place: Motorista Particular e Executivo


Working Experience: 15 years of experience


Available at 24/7 for online consultation


Consultation Fee: ARS 9,562 ($ 100) for 10 to 30 Minutes


Detail Info
CIRUJANO GENERAL , ESPECIALISTA EN CIRUGIA DE URGENCIAS. ESPECIALISTA EN FLEBOLOGIA Y LINFOLOGIA.
You can consult for any of the following symptoms: Abdominal pain, Breast lumps, Thyreoid surgery, Breast sensitivity, acute pain in the upper abdomen, Portal vein thrombosis, Gastric polyps , Swallowed foreign object, Gallbladder disease, Adrenal incidentaloma, and so on.
1. Licence
2. Degree Certificates
3. Experience