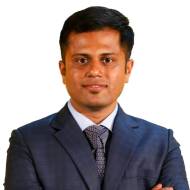 Dr. Harshil Zaveri
Dental Surgeon
Ahmedabad, Gujarat, India
introducing myself
Dr. Harshil Zaveri - Ahmedabad, Gujarat
I am one of the highly qualified and an expert Dental Surgeon - Periodontist & Implantologist with an invaluable experience of over 9 years. My residence is in Ahmedabad, Gujarat, India. I can fluently communicate with you in English, Hindi, Gujarati. I will be happy to assist you via video and audio online medical consultation.
Work Information
Working place: Smile Care Dental Clinic


Working Experience: 9 years of experience


Available at Monday to Saturday - 10:00 AM to 9:00 PM And Sunday - 10:00 AM to 01:00 PM for online consultation


Consultation Fee: INR 371 ($ 5) for 10 to 30 Minutes


Detail Info
We provide all type of world class and economic dental treatment since 1984. Dr Harshil Zaveri is Gum specialist (Periodontist) and Oral Implantologist. He is MDS. He also gives speciality treatments like gum surgery, Dental implants, Bone grafting, cosmetic procedure, Laser surgery, Ozone therapy. We provide treatment to national as well as international patients. We are nominated as Best dentist, Best Dental surgeon, Best dental clinic, Best Periodontist and Best specialist dentist of the year in dental award ceremony in india.
You can consult for any of the following symptoms: Dental abscess, Pain in gum, Mouth red lesions, Mouth white lesions, Gingival growth, Oral ulceration , Mouth pigmented lesions, Dental trauma, Mouth hyperpigmentation, Small jaw, and so on.
1. Licence
2. Degree Certificates
3. Experience