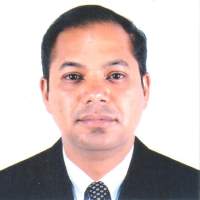 Dr. Deanadayala Reddy
Ophthalmologist
Prague, Praha, Czech Republic
introducing myself
Dr. Deanadayala Reddy - Prague, Praha
I am one of the highly qualified and an expert Ophthalmologist with an invaluable experience of over 17 years. My residence is in Prague, Praha, Czech Republic. I can fluently communicate with you in Dutch, English, Russian, Polish, Telegu, Zulu, Spanish. I will be happy to assist you via video and audio online medical consultation.
Work Information
Working place: SAIVISION


Working Experience: 17 years of experience


Available at Monday to Friday - 09:00 AM to 07:00 PM for online consultation


Consultation Fee: CZK 3,307 ($ 150) for 10 to 30 Minutes


Detail Info
I am a Medical Doctor-General Medicine and Ophthalmic Doctor. I am a very proficient Clinician and Surgeon with an interest in all products within my field of Ophthalmology and General Medicine plus Diabetes. I am a Diabetic and General Surgeon and i have worked in the Pharmaceutical arena for more than 10 years focusing on Medical Writing, Medical Education, Medical Affairs, Product Launches and Medical Advisory. I have studied and trained in a European Setup with all the latest of technologies. I am currently doing a part time long distance PhD in Europe at my University on Retinopathy and Diabetes. I am well travelled and have worked with various NGOs. I am also looking for a change of scene for a dynamic new role and I feel that the Corporate Environment will provide me with the necessary challenges and stimulus. Please note: I have also worked as a Health and Safety physician at a major Casino Complex and Conference resort in Cape Town & Johannesburg. With Research and Development skills, I helped develop a micro glucometer and a Microscope attachment for a Smartphone. I also did surgical training of other Surgeons in UK; Netherlands; Germany and South Africa for a specialized Glaucoma Valve for a large Pharmaceutical Company-Product launchesand Medical Education. I perform more than 500 surgeries per year.
You can consult for any of the following symptoms: Eyelid problems, Ingrown hairs, Retinitis pigmentosa, Ophthalmoscopy, Kernicterus, Asymmetrical eyes, Eyes watering, Vision loss, Blocked tear duct, Eye strain, and so on.
1. Licence
2. Degree Certificates
3. Experience