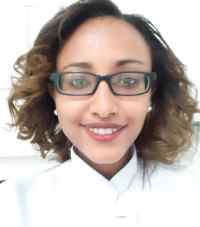 Dr. Bethlehem Mehari Amdemariam
Dermatologist
Debre Zeyit, Oromia, Ethiopia
introducing myself
Dr. Bethlehem Mehari Amdemariam - Debre Zeyit, Oromia
I am one of the highly qualified and an expert Dermatologist with an invaluable experience of over 4 years. My residence is in Debre Zeyit, Oromia, Ethiopia. I can fluently communicate with you in English, Amharic. I will be happy to assist you via video and audio online medical consultation.
Work Information
Working place: ALERT Hospital & Black Lion Hospital


Working Experience: 4 years of experience


Available at Monday to Friday - 04:00 PM to 09:00 PM, Saturday, Sunday - 12:00 PM to 08:00 PM for online consultation


Consultation Fee: ETB 931 ($ 20) for 10 to 30 Minutes


Detail Info
After specializing in Dermatology in 2017, I have been practicing at the two major referral hospitals in the country namely ALERT Hospital and Black Lion Hospital under Addis Ababa University-College of Health Sciences. Apart from engaging in patient evaluation and treatment, I am also involved in teaching undergraduate and postgraduate students as well as participating in research activities.
You can consult for any of the following symptoms: Trichomycosis, Eczema, Urticaria, Hair damage, Pigmentation disorder, Skin ulceration, Squamous cell carcinoma, Nodules, Dark circles, Blackheads, and so on.
1. Licence
2. Degree Certificates
3. Experience