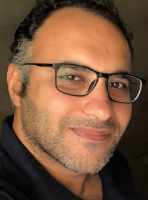 Dr. Aly AbdAllah Agina
Orthopedic Surgeon / Orthopedist
al-Qahira, al-Qahira, Egypt
introducing myself
Dr. Aly AbdAllah Agina - al-Qahira, al-Qahira
I am one of the highly qualified and an expert Orthopedic Surgeon / Orthopedist - Hand Surgery/arthrsopy/arthroplasty with an invaluable experience of over 11 years. My residence is in al-Qahira, al-Qahira, Egypt. I can fluently communicate with you in English, Arabic. I will be happy to assist you via video and audio online medical consultation.
Work Information
Working place: Aly Agina - Ministry Of Health


Working Experience: 11 years of experience


Available at Thursday to Tuesday - 04:00 PM to 11:00 PM for online consultation


Consultation Fee: EGP 314 ($ 20) for 10 to 30 Minutes


Detail Info
- Started residency in 2010, scope on trauma, deformities, infection, sports, arthroplasty and orthopedic oncology. - Had my master's degree in orthopedics in 2012 "Ain Shams Univeristy, Cairo, Egypt". - Finished my MD thesis with a focus on hand surgery in 2019 "Ain Shams Univeristy, Cairo, Egypt".
You can consult for any of the following symptoms: Traumatic haemarthrosis, Cuboid injury, Foot lump, Carpal tunnel syndrome, Joint pain, Ankle swelling, Scaphoid fracture, Low back pain, Knee pain, Hip dislocation, and so on.
1. Licence
2. Degree Certificates
3. Experience